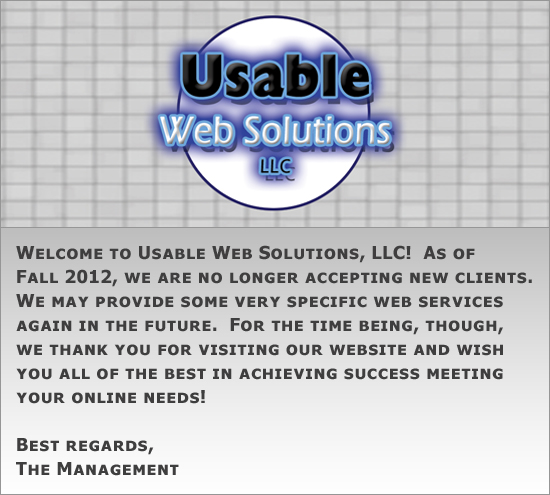 What pages could you expect to have on your website from Usable Web Solutions? The following list is just a small example of some of the many pages that we can create for your website:
Up to ten web pages, including but not limited to:
Home Page
Directions
Lead Sheet
Site Map
Contact Page
F.A.Q. Page (4-8 Questions plus Responses)
About Us
Services or Products Available
Links and References
Testimonials
Background/History
Current Events
But that's not all. UWS will also create graphics and design components for your site in order to make it flow smoothly from one page to the next. To top off the website, UWS can implement a basic navigation system for the end-user so they can quickly surf from one page to another within your website.
Usable Web Solutions can also offer your website other features (available upon request). Note: some of these services may require charges by Usable Web Solutions, LLC or an outside company.
The creation and implementation of an E-Commerce area on your site
Link to scanned images of printed materials (especially helpful for sites that are the online-component of an existing brick and mortar store)
CGI Scripts for use within website
Use of FrontPage or Dreamweaver to create website
Graphic design including logos and stationary for your organization
Hey, if you are confused about any of the features listed above,
just ask for some more clarification
. We'll be happy to help!