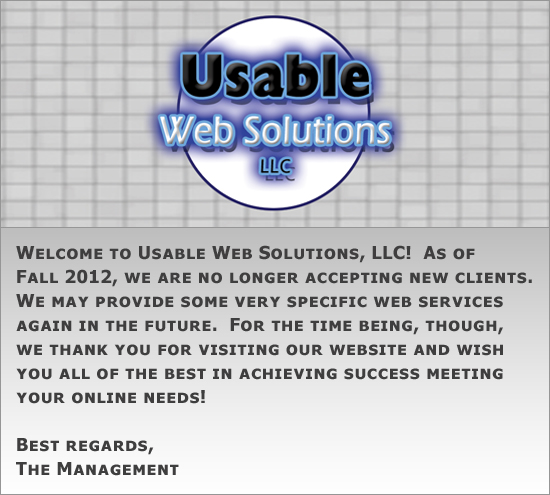 Usable Web Solutions was created to help you bring your organization to the internet. Making the decision to come online is the first step, now let Usable Web Solutions design a website for you that maximizes your online potential!
A Different Company
Many organizations are apprehensive about the costs of creating a website so they rely on a friend of a friend or a distant relative of one of the owners to get them online. Your group's online presence is worth more than that! If you plan your website correctly, your site can increase revenues, spread awareness, and bring new membership to your organization. Most web designers just want to create a site, get paid, and move on to the next project. Usable Web Solutions is a different company, and we invite you to read further to find out why.
Read more about the Usable Difference...

Written HTML code allows for control over all aspects of the site
Real HTML Coding
Many of today's web designers rely on programs to write your site's HTML code for them. Our designers prefer to write your HTML code out by hand, allowing us to maximize the control and design capabilities of your website. Use the link below to see examples of some powerful, usable, handwritten designs.
Real Examples of UWS Sites...
Hosting and Maintenance Plans Available
We do not seek to just create your website; we want to see it become an integral part of your overall marketing and information dissemination network. If designed appropriately and with the proper features, your website can attract a vast array of clients and become a major mode of product, program, and service information for your clients. UWS strives to create this type of website for your organization. By including
usable
design features on your website, we look to help you create an online presence befitting of your organization's efforts!
Review Some of the Features Included in your Site...
We Want to Hear From You!
We want to know if you have any questions, comments, or concerns about Usable Web Solutions or the products that we offer. If you need clarification on any of the comments on this site, please use our online contact form (or your preferred method of communication) to contact our design team.
Contact Usable Web Solutions...